In this blog I explore an application of Carol Dweck's 'Growth Mindset' ideas. The aim has been to instil a belief in my Year 11 students that challenging goals are attainable with commitment, effort and an appreciation that failure and setback is common place in Learning and a sometimes necessary opportunity to improve along the way. I begin by placing the scenario in context, then discuss the methods employed, and finish with the things I have personally learned from the process of applying these ideas.
Background
About 5 years ago I joined our Teaching and Learning working group and first encountered the work of Carol Dweck. I admit I found it interesting, but at the time I do not think I absorbed its potential significance well enough (else I would have done this 5 years ago!). Skip forward to the Teaching & Learning Takeover event in Southampton in October 2013. I listened, somewhat in awe, to John Tomsett sharing how he and colleagues have been developing a whole school culture with elements of influence from Dweck's work (I do not cover the principles in depth in this blog so please read John's blog about his talk here). I took more notice this time and started researching.
Dweck advocates a particular way of thinking she describes as 'Growth Mindset'. The Growth Mindset embraces the potential to improve your intelligence with effort and hard work. Dweck views failure as opportunity to learn, and of utmost importance is resilience and determination to keep going in the face of a challenge. This idea of resilience has been excellently blogged about by others using the term 'grit' – Alex Quigley's discussion is a must on the reading list for this topic.
You may feel that these ideas are not new, and are simple enough and already happen without ever having heard of Dweck, and you may identify limitations; I completely agree with this, however her book, Mindset, offers a concise explanation of the Growth Mindset in practice. I highly recommend it. If you work in Education and are short on time, just reading the introductory chapters and the Teacher specific chapter is rewarding (it also has sections specific to sport, relationships and parenting for example).
Working on mindset with Year 11 (aka #BiscuitClub)
 I teach a fantastic Year 11 Additional Science class, and chose to focus on the boys in this group for several reasons:
On analysing exam data, in the past we have noted that girls and boys perform equally well in Science in terms of achieving a minimum of a C grade at GCSE. However, some cohorts of boys see the C grade as the success bar and do not strive to progress up to B, A/A*. Could a change in self-belief help? Could an intrinsic motivation help set them on course to realise their genuine potential?
Year 11 is such a challenging year for students with multiple exam pressures; I hoped that a change in thinking could help support them across school (i.e. give them the determination and the 'grit' to keep at it this year). Certainly not just in Science.
It provided a moderate sized working group (eleven students) which was manageable for an initial delivery
They were keen and willing to be involved, nobody was forced to contribute. This is why the exploration has become unofficially and affectionately known as #BiscuitClub by my Year 11's (in part due to my affinity with Twitter, but in the main because they were more than happy to be involved, as long as they were allowed to bring copious amounts of biscuits to our meetings!)
The first step was to hold a brief introductory meeting with the group. The purpose was to share with them the point mentioned above, about realising potential, and to set their sights beyond a C grade, even though that could be a perfectly positive outcome. I explained that I would like to work with them to see if we could make this happen, and that I would be transparent about what I was doing and why I was doing it (certainly not to 'keep an eye on them' and definitely not to hold them accountable if things did not have as much impact as we would hope). I asked them if they were happy to be involved and if they could meet again to fill in a short questionnaire.
It is important to note I did not mention the Growth Mindset ideas specifically at all in this meeting, as the questionnaires which students completed next are susceptible to the Hawthorne Effect (where data is skewed if respondents anticipate what sort of answers they ought to respond with, due to too much knowledge of the purpose of the assessments).
A second meeting followed, this was to focus on filling in two questionnaires/surveys (both uploaded and attached at the end of this blog). The first was the Growth Mindset assessment tool from Dweck's book. Students respond to six statements along a scale of:
Strongly Agree (1)
Agree (2)
Mostly Agree (3)
Mostly Disagree (4)
Disagree (5)
Strongly Disagree (6)
The points score for each response is given in brackets above (though they are not shown to students on the survey).
 You have a certain amount of intelligence, and you really can't do much to change it.
Your intelligence is something about you that you cannot change very much
You can learn new things but you can't really change your basic intelligence
No matter who you are you can change your intelligence a lot
You can always greatly change how intelligent you are
No matter how much intelligence you have, you can change it quite a bit
Only responses to statement 1, 2 and 3 are used to calculate the final score. The average points score of these three responses is the score to be interpreted.
Interpretation:
3.0 or below Fixed (Entity Learner, a general belief you cannot improve your intelligence)
3.3 or 3.7 Borderline
4.0 and above Growth (Incremental Learner, with effort and determination, intelligence can be improved)
side note: I completed a version of the survey tailored for teaching staff during John Tomsett's talk in Southampton, and scored 4.6. This is partly why I bought the book, as I wanted to find out how I could become closer to a 6.0! It is also important to appreciate that learners can have different 'mindset scores' in different subject areas; for example someone could hold real belief they can get better at swimming if they work at it, but think the opposite in Maths where no amount of work will help them improve.
The second questionnaire contained a handful of very open questions and asked students to consider their interests in general (not school specific). It also probed their interpretations of success and to consider their aspirations for the future. I found this questionnaire very important, as while this whole process is partly for me to explore the potential Growth Mindset could offer, it is essential to maintain a real and sincere interest in the needs of the students involved as they are the crucial stakeholders in all of this.
The main aim of the second questionnaire was to get the students to recognise that there are things they are interested in and to discuss what motivates them to get better at those things, and whether there are lessons that could be learned from this to apply to school contexts (even if the general interest was to be the best at playing Call of Duty, there are transferable examples such as the time and dedication spent sat playing a PlayStation or XBox!).
Over the half term break I collated information from all eleven sets of questionnaires and Growth Mindset assessment scores in to a big spreadsheet (because I love spreadsheets!). I also included a breakdown of Fischer Family Trust (FFT) data that suggested the probability of the eleven students achieving particular grades in Core and Additional Science.
Ordinarily our students do not see this data; they are given an aspirational target to aim for, partially based on FFT data. The purpose of using the FFT data was not to tell them what they should achieve in terms of GCSE grades, but to emphasise that ALL outcomes are possible and you have at least some real influence in making each of the outcomes more or less likely. A good talking point is to get them to realise that the FFT data is historical from the moment it is produced, and that our actions each and every day after that data is released can cause the probabilities of attaining a C, B or A grade to change. The key is to embrace the challenge of making the higher grades more achievable.
The week following half term holiday we all met for a third time (with lots of biscuits!). This was to openly share the findings of the Growth Mindset assessment tool (they were made to wait for this and kept asking about it!). We took time to share answers about interests and aspirations, and to look at the FFT data as a challenge rather than the future set in stone. A personal highlight in all of this for me was the boys' responses to "What does success look like?", it was motivating and inspiring for me to read some of these:
"Achieving your ambitions and having a job you enjoy"
"Gaining status or a respectable name for myself.  Being the choice for someone in need of help"
"Making my family proud, feels great"
I also gave the boys a short presentation which summarises Dweck's book, to finally reveal to them what a Growth Mindset was 'like'. Personally, I found one of the most powerful change effects of the Growth Mindset stemmed from simply being aware of the Growth Mindset idea. The presentation also highlighted why a Grwoth Mindset may be helpful for achieving their own personal criteria for success, and how it may help them stick at something so that the attributes they hold for things they are personally interested in could be applied in other circumstances, even when that circumstance seems difficult.
The presentation also looked at failure being a potential consequence but that without the chance of failure in a task there cannot be the flip side of the coin: the chance of success. In exaggerated and simplified terms, if there is a 50% chance of success when taking part then this is much greater than a 0% chance of success by not trying at all, just to avoid failure. To avert the wildly unrealistic, I also stressed that this does not mean you will be a success in absolutely everything in life if you keep trying indefinitely. The example I gave (because several of the boys listed sport as an interest) was if you had one 6' 8" man weighing 18 stones and another 5' 8" man weighing 10 stones, one is better 'adapted' to be an international second row rugby player, and the shorter, lighter chap may never succeed in this field (though he could maximise his own untapped potential). However, neither will the tall, heavy man become an international player if he never committed to training and invested time and effort to hard work,  keeping going in the face of setbacks, injuries and inevitably losing a game. It is all about fulfilling your potential, whatever that may be, something all eleven boys could attempt to do in subjects in school in the next six months.
Following our final meeting to date I gave all of the boys a take home poster summarising how to approach things with a Growth Mindset (graphic by Nigel Holmes, click the image to visit his site). The actual version is below, along with a photo shared with me on Twitter from one of the #BiscuitClub, who had the ingenious idea of sticking it to his XBox so he was reminded of it every time he went to turn it on (hopefully it will remind him not to turn the XBox on at times, and keep grafting with his school work too!).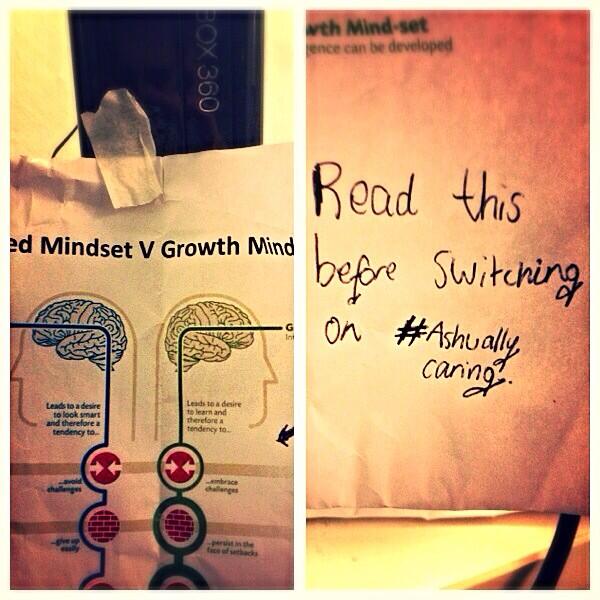 Outcomes and things I have learned
Imparting knowledge about a Growth Mindset is one possible key step to getting students to change how they approach their learning, or at least start this change process (I do not claim it is the only method however)
You must always maintain high expectations of students for Growth Mindset ideas to bear fruit
As Dweck points out, a language shift is essential, there is no "I can't do that", there is only "I can't do that…YET". Open up discussion about what can be done to improve understanding of a topic. Students need to engage with the process of overcoming challenges. For my Y11 class I introduced a self-reflection sheet to assess what they know and don't know YET and how they could change this. I keep a stock of them in my classroom and have told them they can take them away to use in their other classes or at home if they feel it would help. You can download it here: http://www.tes.co.uk/teaching-resource/5-Minute-Reflection-Plan-6374003/
In giving feedback on pieces of work, the focus must be on the process of effort and hard work and what was done to achieve the outcome, or equally important what could be done to improve the outcome.
Be sincere with your classes and share with them your experiences of failure, share with them how you overcame it and model learning to them (I was open with the eleven boys that I had to read and find out new information to be able to talk to them about Growth Mindset)
Ultimately I have no intentions to claim this exercise has been the key to success if any of the boys achieve higher than a C grade in Additional Science. I learned along the way that this could be far more rewarding to them than this 'experiment'  alone, in it could simply manifest itself outside of Science, or in their as yet unknown futures. There is a Dweck quote I find delivers an important message regarding this:
"…a person's true potential is unknown (and unknowable); that it's impossible to foresee what can be accomplished with years of passion, toil, and training."
I told the boys I had this quote stuck on the inside of my office door so it reminds me to keep an open mind and not play down potential of any of the students I head off to teach during the day, as we all appreciate it can sometimes be difficult to be unconditionally optimistic all of the time! (some of the boys held me to account and came to my office to make sure I was telling the truth about this! Photo below for added evidence).
I would love to celebrate very positive grades come results' day next summer, and for the boys to be celebrating their earned successes warranted by hard work, 'grit' and determination. If they do however achieve a C grade (which we are trying to get them to exceed), then I will not be judging that as a cap as to what they could achieve in the future, and I will sincerely extend best wishes to them all regardless.
Thank you to all eleven boys who have been involved with this.
Questionnaire documents: